Bakersfield Car Accident Attorneys
Auto Insurance Companies Know Us by Name
Each day, thousands of people across the country are seriously injured in car accidents caused by negligent drivers. Most of them will encounter some sort of resistance when filing a claim against the other driver's insurance company. Prepare your car accident claim for the worst by teaming up with Fowler | Helsel | Vogt in Bakersfield. Our car accident lawyers have decades of combined experience and a history of impressive case results that amount to millions recovered overall. When an insurance company sees our name on a demand letter, it knows a legal battle is ahead of them if they don't offer a fair settlement.
Call (559) 900-1280 to connect with our team. Initial consultations are free.
Capable Representation for Any Auto Accident Claim
You can never be certain when a car accident will happen. Even if you drive responsibly and defensively, another driver could blindside you. This might be exactly how your car accident occurred. No matter the details behind why your Bakersfield car crash happened or what the other driver did to cause it, we can be there to support and guide you.
Every Penny Owed to You Should Be Paid
The damages you experience after a car accident can sometimes feel worse than the injuries. Financial pits are too common after a crash as medical bills keep showing up in the mail and weeks of missed work keep passing. What are you supposed to do to keep afloat? Turn to Fowler | Helsel | Vogt and our Bakersfield car accident attorneys, of course. We know how to uncover and pursue all sorts of damages that can be filed against one or more insurance policies held by the defendant.
Some of the losses you might be able to recover in a car accident claim include:
Vehicle repair costs
Medical bills
Missing paychecks and wages
Reduced earning capacity
We can also pursue noneconomic damages that are less tangible than other forms of losses. For example, you can receive money to pay for the pain and suffering you have endured, as well as new disabilities you might live with now.
Filing Claims Against Drunk, Distracted & Negligent Drivers
We have helped drivers in Bakersfield file claims against:
Drunk drivers - Drunk driving is a choice that often results in very serious injuries. Dealing with legal repercussions may help the driver reconsider the next time they are faced with a choice to drink and drive.
Texting drivers - Texting and other forms of distracted driving are extremely common. The latest research shows that a person reading or sending a text takes their eyes off of the road for about five seconds at a time.
Speeding drivers - Not only does the risk of an accident go up with speeding, but the risk of a serious injury in a car crash also increases proportionately with the speed of the vehicle.
Exhausted/Fatigued drivers - Falling asleep at the wheel or having a lapse in attention because of fatigue is unfortunately very common. It is estimated that being fatigued increases the chance of someone getting into an accident by threefold.
Hit and runs - Sadly, most hit and runs are never resolved. But if there is surveillance footage of the vehicle that hit you or an eyewitness account (even your own), there's a good change you can track down the car.
The bottom line is that our Bakersfield car accident lawyers know how to create a convincing claim for compensation, no matter the cause of your accident. Evidence is out there to prove your argument, but it is a matter of finding it. Using our experience and insight, we can gather police reports, medical records, eyewitness testimonies, and more to strengthen your claim and grow the other driver's liability. In California, the more liable a party is in an injury claim, the more they can owe to the other parties.
Dial (559) 900-1280 and talk to someone from our firm about your case.
How Much Time Do You Have to Sue?
Taking legal action after a car accident should be on your mind as soon as you have a moment to catch your breath. California has a two-year statute of limitations on car accident claims. Once two years pass from the date of the crash, the court will more than likely reject any claim you file. Two years can be gone before you know it, too, if you are busy with other things like your recovery, adjusting to your new lifestyle, or finding new work. Don't let the statute of limitations expire. Contact us as soon as you can.
$2,000,000 Premises Liability

The client suffered severe injuries to his legs when the 2-story ladder he was climbing (which was affixed to the building), detached causing him to fall approximately 15 feet.

$975,000 Rear-End Collision

The client was rear-ended by a commercial work truck resulting in serious neck and back injuries. After months of conservative treatment, the client eventually underwent surgical repair to her cervical spine.

$920,000 Wrongful Death

FHV filed a lawsuit against a local agribusiness on behalf of the father and dependents of a young man whose life was cut short following the release of ammonia gas from the company's refrigeration equipment.

$750,000 Rear-End Collision

Multiple Car Pile Up Results in $750,000 Recovery for Client.

$650,000 Burn Injury

The driver suffered severe burns due to a salvaged vehicle catching on fire. Settled to the plaintiff for damages.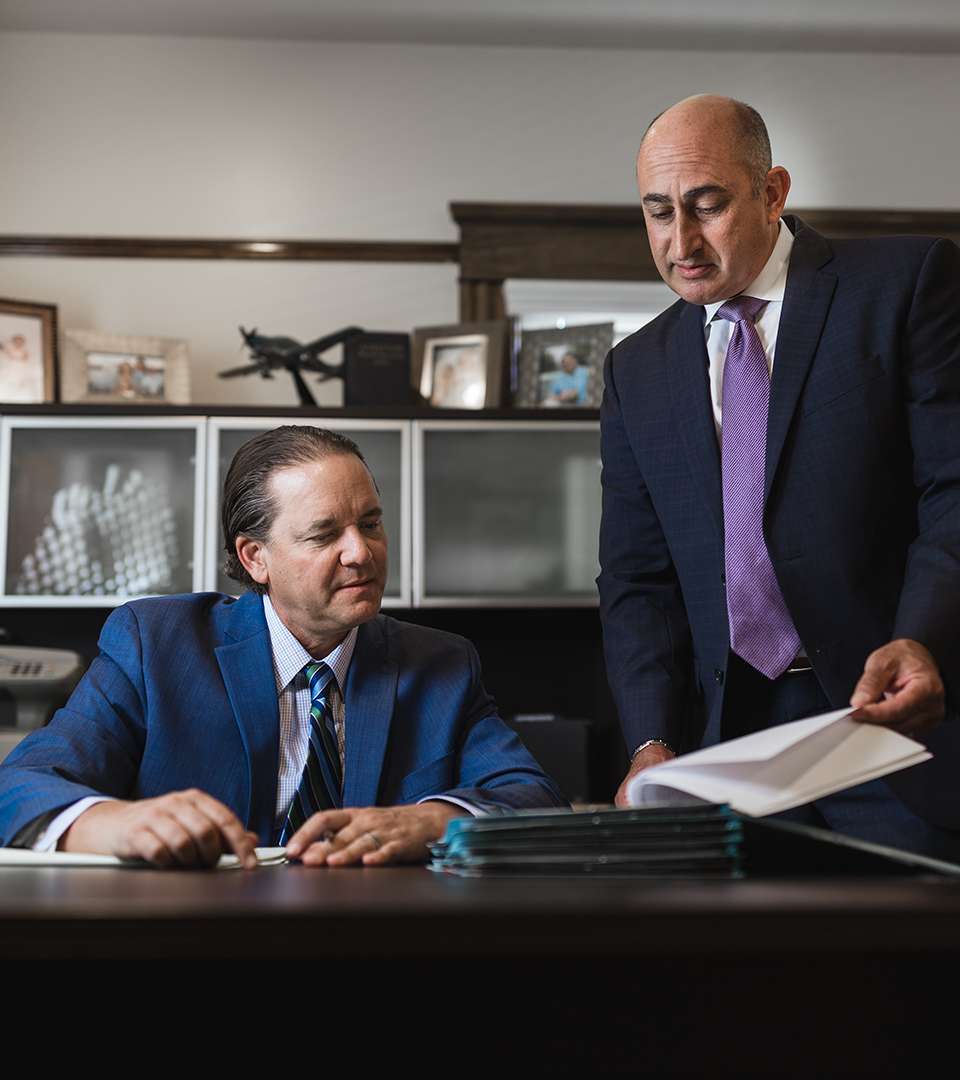 In a Crash? We're There in a Flash
Our Bakersfield car accident attorneys are reputable for being kind, professional, and responsive. When you reach out to our firm, day or night, we will do all we can to reply as soon as possible if we miss your initial call. It is all part of the Fowler | Helsel | Vogt client experience that separates us from other law firms in Bakersfield and beyond.