Fresno Truck Accident Attorneys
Fighting for the Compensation You Are Owed
Truck drivers carry a higher level of responsibility than other drivers due to the size and weight of the vehicles they operate. Large commercial trucks cause devastating accidents every year in the United States. Weighing as much as 80,000 pounds, these massive vehicles can cause serious havoc. If you or a loved one was injured in an accident involving a semi-truck, we encourage you to contact the Fresno truck accident lawyers at our firm as soon as possible.
Why Choose Our Accident Attorneys?
24-hour Availability
Free and Confidential Consultation!
Award-Winning Representation
What causes truck accidents?
The Federal Motor Carrier Safety Administration (FMCSA) is designed to regulate truck drivers and their employers in order to protect others on the road. For example, under FMCSA regulations, truck drivers may not operate their vehicles for longer than 11 hours or 14 hours in total including work that does not involve driving. By ignoring the hours ofservice regulations, truck drivers put others in serious jeopardy of accidents caused by exhausted driving.
Common causes of trucking accidents include, but are not limited to:
Jackknifing
Tire blowouts
Drunk Drivers
Making unsafe lane changes
Fatigued drivers
Driving aggressively
Failure to follow rules of the road
Improperly secured cargo
Inexperienced drivers
Texting or talking on the phone while driving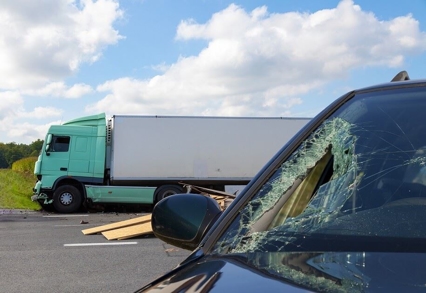 Any of these causes can lead to a devastating highway accident. Work with our truck accident attorneys in Fresno who are experienced in these cases if you or a loved one suffered injuries caused by a truck accident due to the negligence of the driver. By working with a committed and knowledgeable truck accident lawyer in Fresno from our team, you can be sure that your case is in good hands.
40+ Years of Combined Experience Working for You
Our team of legal professionals is ready to hear your side of the story and educate you on your rights and legal options at this time. We consult forensic experts with knowledge and experience in the field in order to recreate the collision effectively, helping to possibly prove the other driver's negligence and protecting your rights. We are thoroughly familiar with California insurance and liability laws, as well as FMCSA regulations.
Call us today to schedule your complimentary consultation with a member of our dedicated and compassionate legal team.
---
Related Articles: