Premises Liability Attorneys in Fresno
We Have Recovered Millions For Our Clients
Injury cases that involve premises liability laws, or the legal responsibility of property owners to protect others from injuries occurring on their premises, can be quite complex. Under both state and federal laws, property owners have an obligation to maintain their land and buildings to a certain standard of care. Establishing neglect in a lawsuit requires the guidance of our skilled and knowledgeable Fresno premises liability attorneys.
Why Hire Our Firm?
We are available 24/7
Award-Winning Representation
Free and Confidential Consultation!
Some Common Causes of Accidents that Fall Under Premises Liability Laws Include:
Swimming pool accidents
Accidents that occur in amusement parks
Crimes that occur due to insufficient or negligent security, including theft crimes, rape, and assault
Electrical injuries caused by fallen power lines, exposed wires, and other dangerous conditions
Accidents that occur on construction sites, including scaffolding falls, ladder falls, falling debris, and more
Slip and fall accidents caused by broken sidewalks, missing steps, missing railings, wet floors, slippery surfaces, icy pavements, and other dangerous conditions
Suffering From Any of These Injuries? We Can Help
Electric shock
Burns
Neck and spinal issues
Traumatic brain injuries (TBIs)
Scarring
Disfigurement
Serious bruising
Dislocated joints
Broken bones
Nerve damage
Wounds or infections
Lacerations
If you were injured by another's negligence, it is important you seek medical treatment as soon as possible. This can help your claim in a few ways:
It shows the seriousness and existence of your injury.
It shows that this was not a pre-existing illness.
It eliminates the possibility that the severity of your illness could be blamed on not seeking medical treatment.
When to Hire a Premises Liability Attorney
Do you need to hire a premises liability lawyer to manage your injury claim? You do not. You are allowed to work on your claim alone and represent yourself as it progresses. However, as with any legally and technically complicated situation, relying on a professional to manage the details and key points is highly encouraged.
There are many ways an attorney can help your claim, but three specific ways you will probably want are:
Evidence collection and use: Proving that the property owner caused your injury can be a steep evidential hill to climb. Even if the hazard that hurt you was "open and obvious," the defendant could try to argue that it was so open and obvious that you should have known to avoid it. To prove their liability and lower your own, tangible evidence like medical reports, witness testimonies, and photographs are crucial. An attorney knows how to find all available evidence and utilize it in a way that enhances your claim.
Insurance evaluator negotiations: Once your claim is filed, the responding insurance company will probably want to offer a settlement amount to conclude it before details go public. How can you be certain that the settlement is fair compared to your current and future damages? One way to negotiate carefully for the right amount is by letting a premises liability lawyer manage the negotiations for you. Our attorneys have decades of collective experience dealing with insurance companies, so we know all of their tactics before we even start your claim.
Litigation representation: If settlement negotiations fail because the defendant will not offer anything close to a fair amount, then your case will need to go to court. Allowing a premises liability attorney to represent you takes all the stress of courtroom procedures and litigation off your shoulders. Hiring a local attorney also means you will be represented by a professional who is familiar with courts, judges, and jurors in your area. A bit of familiarity can build plenty of empathy in a case, which might tip the outcome in your favor.
Call Fowler | Helsel | Vogt Today at (559) 900-1280 to Request Your Free Case Evaluation with a Member of Our Caring and Dedicated Legal Group.
Defending Injury Victims & Their Families
Our Fresno firm is known for the committed and fierce advocacy of our clients. At Fowler | Helsel | Vogt, we work hard to protect the individuals we represent, and we work to collect compensation for your injuries and losses after an accident. Some insurance companies are not looking out for your best interests: Their ultimate concern is to protect their own profits. At Fowler | Helsel | Vogt, you can expect a better standard of treatment. We fight for our clients and refuse to settle for less than aggressive pursuit of the equitable outcome they deserve.
$2,000,000 Premises Liability

The client suffered severe injuries to his legs when the 2-story ladder he was climbing (which was affixed to the building), detached causing him to fall approximately 15 feet.

$975,000 Rear-End Collision

The client was rear-ended by a commercial work truck resulting in serious neck and back injuries. After months of conservative treatment, the client eventually underwent surgical repair to her cervical spine.

$920,000 Wrongful Death

FHV filed a lawsuit against a local agribusiness on behalf of the father and dependents of a young man whose life was cut short following the release of ammonia gas from the company's refrigeration equipment.

$750,000 Rear-End Collision

Multiple Car Pile Up Results in $750,000 Recovery for Client.

$650,000 Burn Injury

The driver suffered severe burns due to a salvaged vehicle catching on fire. Settled to the plaintiff for damages.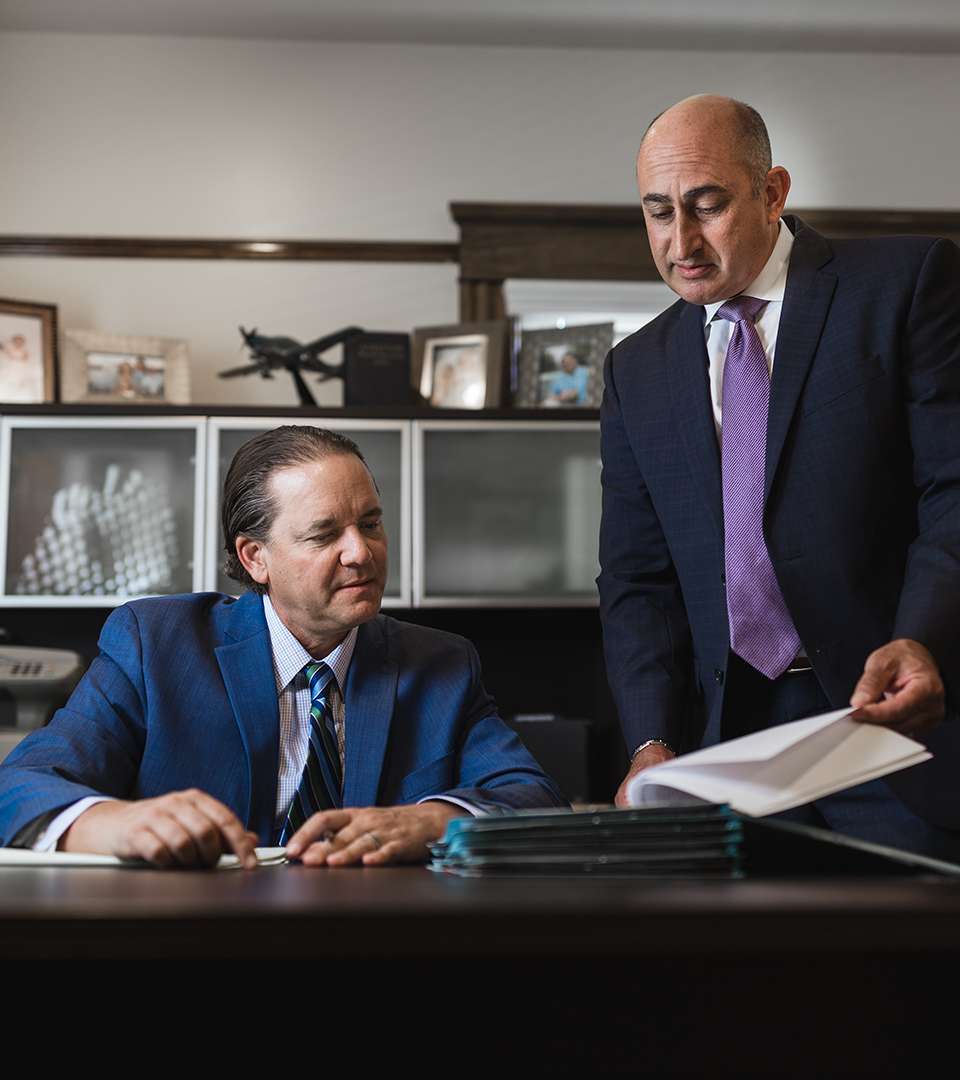 Contact Our Firm for the Aggressive Representation You Need
Our Fresno premises liability lawyers encourage you to take action now to pursue The sooner you contact an experienced attorney, the better your chances can be of a successful result.
Additional Information:
We've Helped Recover Millions on Behalf of Victims Just Like You. Don't Wait, Get Help Today!
Schedule your free consultation or call us at (559) 900-1280.