Fresno Medical Malpractice Lawyer
If you or a loved one has suffered harm or injury due to the negligence or wrongful actions of a healthcare professional, you have come to the right place. Fowler | Helsel | Vogt is committed to providing the highest level of legal representation, helping our clients navigate the complex field of medical malpractice, and seek the compensation they deserve.
With a deep understanding of California's laws and a track record of success, we are here to provide you with the guidance, support, and advocacy you need during this challenging time.
What Is Medical Malpractice?
Medical malpractice occurs when a doctor, nurse, or other medical professional makes an error or omission in the treatment or care of a patient. This can result in injury, illness, or even death. In medical malpractice cases, the medical professionals are acting as an agent of the patient's employer, insurer, or other entity. When this happens, the injured patient may be able to file a medical malpractice lawsuit.
To prove medical malpractice, you will need to show that:
The medical professional owed you a duty of care
The professional breached that duty of care
The breach of duty caused an injury or illness
The injury or illness resulted in damages
Common Causes of Medical Malpractice Claims
Medical malpractice claims can be filed for a variety of reasons, but the most common ones involve:
Failure to diagnose a condition
Wrongful surgery or treatment
Nursing home abuse or neglect
Prescription errors
Birth injuries
Improper treatment of a child
Failure to obtain informed consent
Improper monitoring of a patient
Improper administration of medication
Failure to obtain informed consent
Who Can File a Medical Malpractice Claim in CA?
In order to file a medical malpractice claim in California, you must be the victim of a medical mistake that resulted in injury or illness.
In California, the following parties can typically file a medical malpractice claim:
Patients: Patients who have suffered harm or injury due to the negligence or wrongful actions of a healthcare professional can file a medical malpractice claim. This includes both adults and minors who have been directly affected.

Legal Guardians: If the patient is a minor or someone who has been declared legally incapacitated, their legal guardian can file a medical malpractice claim on their behalf.

Surviving Family Members: In cases where medical malpractice results in the death of a patient, certain family members can file a wrongful death claim. In California, this typically includes the deceased person's spouse, domestic partner, children, and certain other dependents or heirs.

Personal Representatives: If the patient passes away as a result of medical malpractice, the personal representative of the deceased person's estate can file a claim. This representative is usually named in the patient's will or appointed by the court.
If you or a loved one has been injured due to medical malpractice, it is important to seek legal counsel as soon as possible. Our medical malpractice attorneys in Fresno can help you understand your rights and fight for the compensation you deserve.
Contact us online or by phone at (559) 900-1280 to learn more.
Why Choose Our Attorneys?
$2,000,000 Premises Liability

The client suffered severe injuries to his legs when the 2-story ladder he was climbing (which was affixed to the building), detached causing him to fall approximately 15 feet.

$975,000 Rear-End Collision

The client was rear-ended by a commercial work truck resulting in serious neck and back injuries. After months of conservative treatment, the client eventually underwent surgical repair to her cervical spine.

$920,000 Wrongful Death

FHV filed a lawsuit against a local agribusiness on behalf of the father and dependents of a young man whose life was cut short following the release of ammonia gas from the company's refrigeration equipment.

$750,000 Rear-End Collision

Multiple Car Pile Up Results in $750,000 Recovery for Client.

$650,000 Burn Injury

The driver suffered severe burns due to a salvaged vehicle catching on fire. Settled to the plaintiff for damages.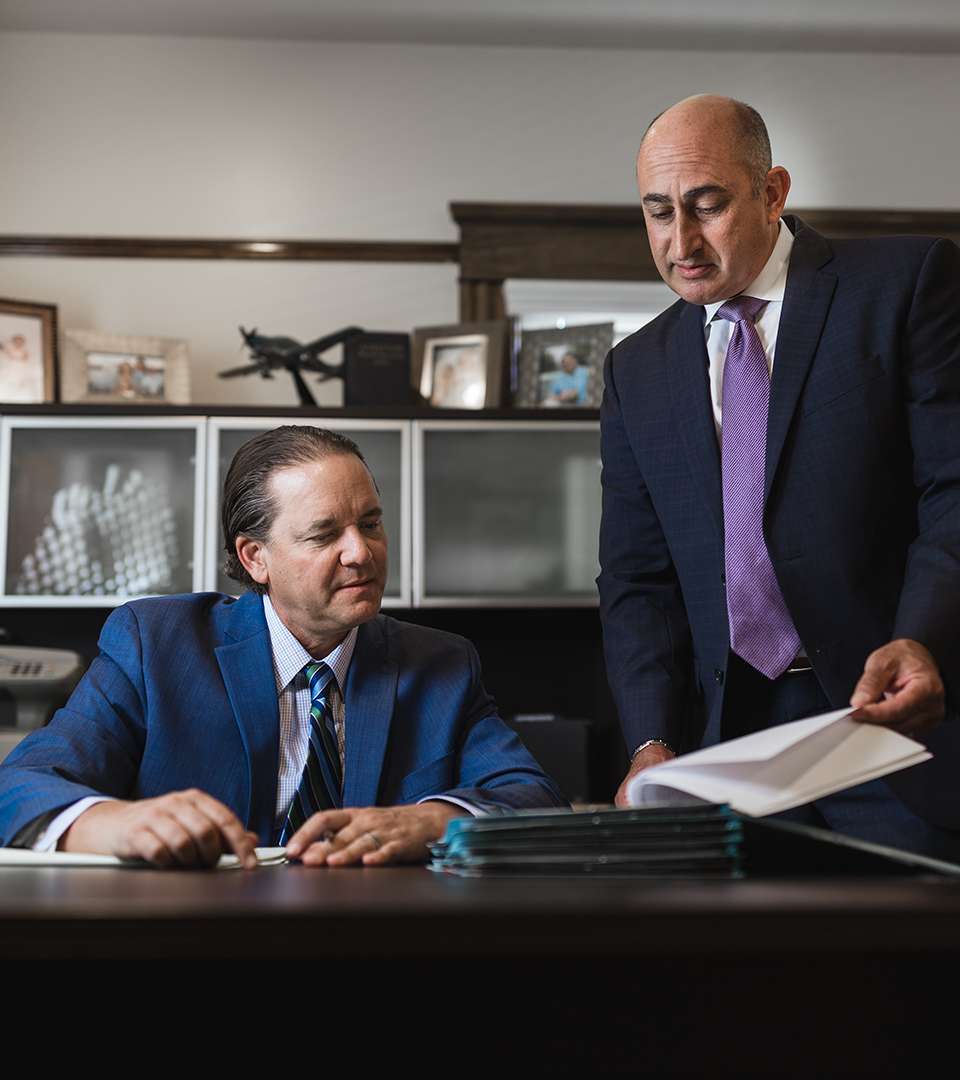 Common Causes of Car Accide
nts