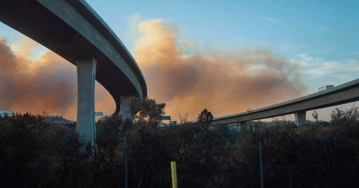 Fire season in California is a notorious time of the year, and the term "growing like wildfire" is something that is well known to residents across the state.
Starting in September and October, when forestry is drying out, the smallest flames can catch dry brush and spread rapidly; the results are often devastating.
2019 was no different. This year, thousands of California residents were evacuated from homes and many more were left unable to travel due to road closures. But the fire left more marks than many realize.
Here is how fires this year impacted the entire state.
Total Damages
Reports of all 2019 fire incidents from the California Department of Forestry & Fire Protection show that there was a total of:
6,190 incidents

198,392 acres burned

732 structures damaged or destroyed

3 fatalities
Increased Traffic and Car Accidents
If you are a California resident yourself, your home or safety may not have been immediately threatened by California fires this year. However, you may have still felt the impact of the devastation and chaos they left behind.
As the fires roared, roads were closed as workers and travelers across the state were left with no way to get to their destinations. Some were stopped completely on the highway as firefighters and other emergency responders worked to contain the fires and save buildings from damage.
It's difficult to determine the exact number of car crashes that may have occurred due to closed roadways and congested roads. However, we know that congested roads frequently lead to more collisions for many reasons, including:
Driver road rage when another driver cuts them off
Impatient or frustrated drivers who are late on their way to work
Frequent stops and go's
Not putting enough space between cars in ahead
A general closer proximity to more cars
Injured? Contact Fowler Helsel Vogt
At our firm, we care about our communities. That's why we are dedicated to providing injury victims with the legal representation they need. If you or a loved one is injured in any sort of accident, don't hesitate to reach out to Fowler Helsel Vogt for advocates in your corner. Our personal injury attorneys will investigate the causes of your accident and fight for your financial recovery against liable parties.
Contact our firm at (559) 900-1280 to schedule your free consultation.