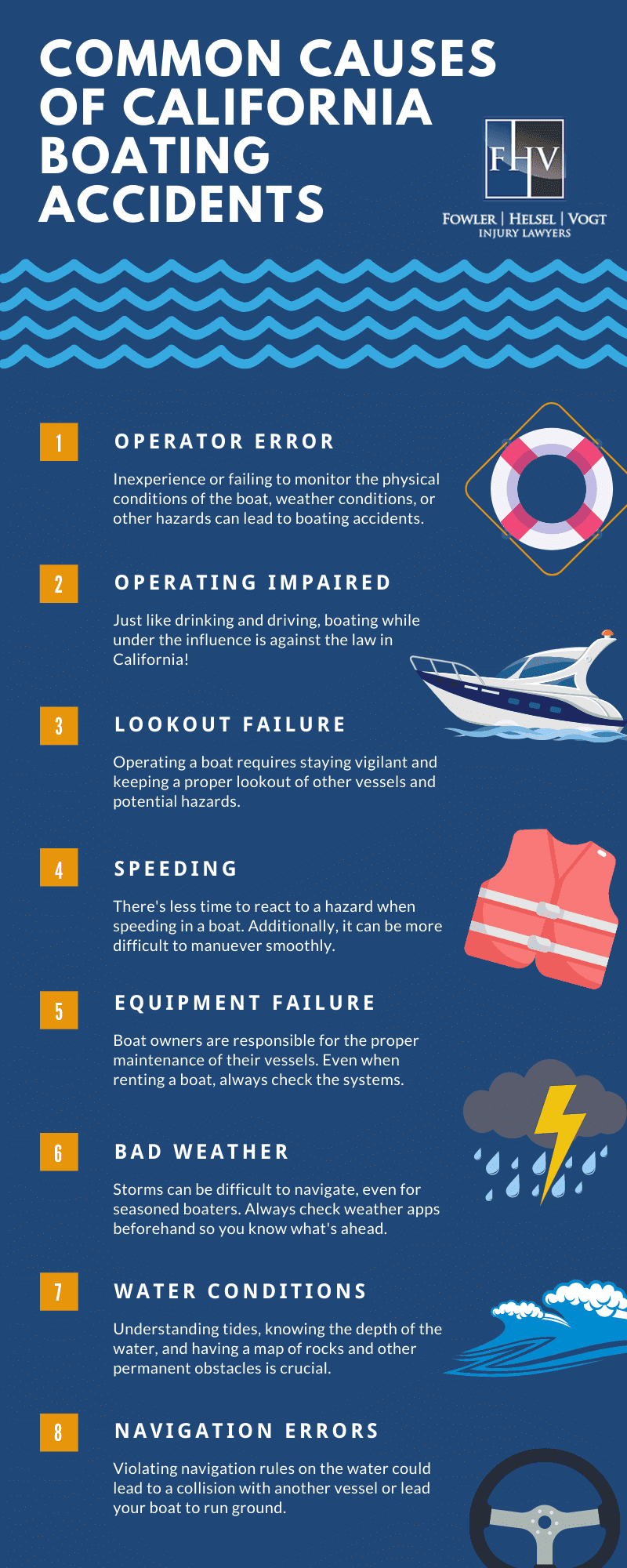 Summer is right around the corner, which means boating enthusiasts from all over California will soon be hitting the waterways. During the popular boating season, accidents are bound to happen. Get the facts on boating accident liability and what you can do if you're involved in one this summer. 
Proving Negligence
A boating accident is similar to a car accident in that you need to prove negligence in order to determine fault and liability. To do this, you and your personal injury attorney will need to prove that the other boater was operating their water vessel irresponsibly and that you were injured as a direct result of their negligence.
Boat operators are required to follow waterway rules, just like motorists are required to follow roadway rules. When boaters do not do this and an accident occurs, they may be held responsible for the incident and any resulting injuries. All boat operators in California are required to observe the following rules when on the water:
No person under 16 years of age may operate a boat with a motor of more than 15 horsepower, except for a sailboat that does not exceed 30 feet in length.

The maximum speed for motorboats within 100 feet of a bather and within 200 feet of a bathing beach, diving platform, lifeline, or landing where boats are tied up is 5 miles per hour.

Boaters may not operate their vessel while someone is bodysurfing behind the vessel or occupying a swim deck or ladder.

No person shall operate any vessel or manipulate any water skis, aquaplane, or similar device in a reckless or negligent manner so as to endanger the life or limb of any person.

No person shall operate any vessel, water skis, or similar device while under the influence of drugs or alcohol.
Involved in a Boating Accident? We Can Help
Boating can be a fun summertime activity when all boaters operate their vessels safely and responsibly. Unfortunately, this doesn't always happen, and people can be seriously injured as a result.
If you have been injured in a boating accident caused by an irresponsible or negligent boat operator, we can help you recover the compensation you're entitled to. Our Fresno personal injury attorneys have over 40 years of combined experience ready to work for you.
If you were injured in a boating accident and you believe someone else was at fault, contact Fowler | Helsel | Vogt at (559) 900-1280 for a free consultation today.