If you have been in an accident with a commercial truck, you may believe the trucking company is responsible for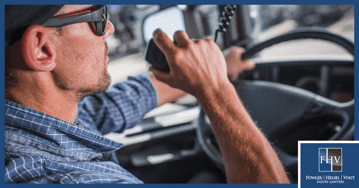 your damages. While this is an honest assumption, determining liability in a trucking accident isn't always cut and dry. There are many moving parts when it comes to determining liability, which can be difficult to determine alone.
Working with a team of trusted Fresno truck accident attorneys will ensure that you are able to pursue the maximum possible compensation for your case.
Determining Liability
You must first determine who is liable for the accident in order to pursue compensation for damages such as:
Lost wages

Medical bills

Pain & suffering

Loss of enjoyment
Many different parties may be liable for various reasons. For example:
A driver may be responsible if it is determined they were driving distracted.

The company might be responsible if the vehicle was not properly maintained.

The company can also be held responsible if it didn't take proper care when it came to hiring or training their truck drivers.

The truck manufacturer can also be responsible for the accident due to providing a defective product.
Scope of Employment
A truck accident attorney knows when a trucking company should be held liable for an accident. It must be established the driver of the truck was performing duties within the scope of their employment. There are certain common factors the courts in each state used to make this determination, such as:
The type of duties an employee was hired to perform

The level of freedom given to the employee when it comes to performing their duties

The intent of the truck driver

Incidental acts expected of an employee to perform for the company

The place, nature, and time associated with an employee's conduct
Independent Contractor Defense
Prior to 1956, a trucking company would attempt to protect themselves against liability by classifying many of their drivers as independent contractors. After this time, Congress amended the law so trucking companies weren't able to hide behind this tactic so easily. The law now states a trucking company that leases a truck must have exclusive control, use, and possession of the truck until the lease is completed.
Speak With a Team You Can Trust
Determining liability for a truck accident is only one aspect of filing a personal injury claim. An experienced Fresno truck accident attorney will know how to handle your claim to ensure that you can pursue the maximum possible compensation.
Should you believe you are the victim of an accident involving a commercial truck, you should contact our team at Fowler | Helsel | Vogt. We can help you pursue the compensation you deserve, allowing you to have a proper recovery.
Call (559) 900-1280 for more information, or to schedule your free case evaluation today.