Losing a loved one is never easy and can leave the surviving family deeply heartbroken. When a loved one is killed due to another person's negligence, such as a reckless driver, it can be even more difficult knowing that it shouldn't have happened in the first place.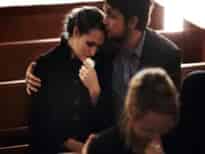 In situations like these, certain family members may have the ability to sue for damages related to the loss of their loved one. Below, we discuss these eligibility requirements in California.
Only Certain Family Members Are Eligible
It's important to note that only certain family members are typically eligible to successfully file a wrongful death claim. According to California's Code of Civil Procedure 377.60, the following members may file a wrongful death lawsuit:
The deceased's surviving spouse
The deceased's domestic partner
The deceased's surviving children
If none of these people are available to sue, then anyone who would be entitled to the property/estate of the deceased may bring forth a claim, including:
The deceased's parents
The deceased's siblings
The deceased stepchildren
Possible Damages
There are a number of potential damages available for those pursuing wrongful death claims in California.
The first category of damages attempts to compensate the estate for losses associated with the person's death, such as:
Funeral and burial expenses
Medical and hospital bills related to the person's illness or injury
Lost income that the deceased person would have reasonably expected to earn in the present and future, had they lived
The second category of damages is related to losses that the surviving family members may have incurred:
The value of household services
Loss of anticipated financial support
Loss of love, affection, moral support, and guidance
Loss of consortium
Remember, wrongful death lawsuits must be filed within two years of the date of the deceased death. If you miss this deadline, the family will most likely lose the right to file a claim at all.
If this is the case for you, our team at Fowler Helsel Vogt would like to extend our deepest sympathies to you and your family during this extremely difficult time. We want you to remember that we are here to help you and your family during this incredibly difficult time in your lives.
Our Fresno wrongful death attorneys are prepared to stand up for you and your family and help you pursue just compensation for what you have endured.
Contact Fowler Helsel Vogt at (559) 900-1280 to schedule your free and confidential consultation.