Bakersfield Traumatic Brain Injury Lawyers
If you have recently been in a car crash, slip and fall, or another accident, you may have suffered a serious head or brain injury. Traumatic brain injury (TBI) is caused when an outside force leads to a blow to the head, whiplash, or a penetrating injury that punctures the brain. TBIs can range from mild to severe and can be temporary (like a concussion) or lead to long term or even permanent brain damage.
At Fowler | Helsel | Vogt, our Bakersfield traumatic brain injury attorneys have been fighting for the rights of catastrophic injury victims for over 40 years. We understand the laws that pertain to such cases as well as the unique challenges associated with brain injuries. Our legal team will fight to obtain compensation that will cover all of your or your loved one's medical and other associated expenses—including costs that may come up in the future. Our goal is to provide you with maximum compensation so you can make the best recovery possible.
TBIs may include, but are not limited to:
Brain contusions
Concussions
Coup-contrecoup injuries
Diffuse Axonal Injury (DAI)
Penetrating injuries
Second Impact Syndrome
If you or a loved one has suffered a TBI, call (559) 900-1280 or contact us online to learn about your legal rights and options. We offer free consultations.
Common Symptoms of a Traumatic Brain Injury
Symptoms of a TBI can sometimes be difficult to detect, especially in children. Unlike adults and older children, infants and toddlers are unable to explain when something hurts. For that reason, if you or your young child suffers a head injury, it can go unnoticed for some time—unless you know what signs to look for.
Typically, the more serious the effects, the more serious the brain injury. Symptoms of a TBI in children and adults may include:
Behavioral changes
Clear fluids draining from the nose or ears
Difficulty sleeping
Excessive drowsiness
Irritability
Loss of consciousness
Loss of interest in normal activities
Persistent headaches
Sensitivity to light or noise
Speech problems
Trouble concentrating
Unusual sleep patterns
Unusually uncoordinated or awkward movements
Vomiting and nausea
Although this list can help you identify a potential TBI in your child, it's important to remember that you know your child best, so if you think your child's behavior seems odd after they hit their head, you should seek medical attention immediately. Moreover, as a rule of thumb, if your child experiences any type of injury to the head, you should seek medical attention anyway, just to be safe.
After a Brain Injury—What You Should Do Next
If you or someone you love suffered what you suspect is a brain injury, you must seek medical attention immediately. A medical professional can order the necessary tests, including CT scans, MRI scans, and X-rays to properly diagnose the problem. Keep records of all scans, assessments, and doctor's notes for your records.
Once you've been treated, you should write down everything you remember of the incident—before your memories begin to fade. Also, gather personal accounts from those who witnessed the accident that caused your injury because these can strengthen your claim.
Once you've covered the basics, you should get in touch with an experienced brain injury attorney for legal guidance. Our team has ample experience working with brain injury victims and we can use our legal knowledge and resources to ensure you have a voice against the party responsible for your injuries.
What Are the Long-Term Costs of a Brain Injury?
Measuring the cost of a brain injury can be extremely difficult, especially because not all of the damages are quantifiable. When you consider the long-term effects of your injury, things can get even trickier.
Brain injuries can be extremely costly to treat, and they may require expensive surgeries, medications, therapy sessions, and ongoing appointments—not to mention the loss of wages while you recover. Yet, the long-term effects can be even more damaging.
Depending on the severity of your injury, and the damage left behind, you might also consider the cost of:
Continued medications
Live-in care
Loss of employability
Occupational therapy
Ongoing physical therapy
And more
In some cases, the injury may have also affected your personal relationships, your enjoyment of life, and your ability to earn a living. If your injury was very severe, it might have also impacted your loved ones—especially if your spouse, child, parent, or other relative has had to stop working in order to act as your caretaker.
In order to calculate the long-term cost of your brain injury, you must seek professional help. These costs aren't one-size-fits-all—in fact, the measure can vary significantly on a case-by-case basis. For this reason, you need professional help to assess the long-term cost of your injury and the overall value of your claim.
Can a Brain Injury Cause Dementia?
Studies indicate that individuals with brain injuries have an increased risk of developing memory-related conditions like dementia and Alzheimer's' disease. According to Dr. Sharon Shively, in Dementia Resulting from Traumatic Brain Injury, "multiple epidemiologic studies show that experiencing a TBI in early or midlife is associated with an increased risk of dementia in late life." Individuals who experience severe head injuries over the age of 55 are especially at risk, as are those with repeated mild brain injuries.
Although scientists haven't precisely defined why brain injuries can sometimes cause dementia, many speculate that the root of the issue stems from damaged brain cells. When a concussion or other TBI occurs, it damages the brain, and if those tissues don't heal properly, it could lead to a decline in memory and other cognitive function. This, some scientists speculate, can ultimately lead to the development of Alzheimer's or dementia.
Contact Us Today for a Free Consultation
With a background in catastrophic brain injuries and millions recovered for our clients, we have what it takes to help you obtain the compensation you need to cover your medical expenses for good.
Contact Fowler | Helsel | Vogt online or call (559) 900-1280 to get started with your free, no obligation case evaluation.
Let Us Work on Your Dog Bite Claim
$2,000,000 Premises Liability

The client suffered severe injuries to his legs when the 2-story ladder he was climbing (which was affixed to the building), detached causing him to fall approximately 15 feet.

$975,000 Rear-End Collision

The client was rear-ended by a commercial work truck resulting in serious neck and back injuries. After months of conservative treatment, the client eventually underwent surgical repair to her cervical spine.

$920,000 Wrongful Death

FHV filed a lawsuit against a local agribusiness on behalf of the father and dependents of a young man whose life was cut short following the release of ammonia gas from the company's refrigeration equipment.

$750,000 Rear-End Collision

Multiple Car Pile Up Results in $750,000 Recovery for Client.

$650,000 Burn Injury

The driver suffered severe burns due to a salvaged vehicle catching on fire. Settled to the plaintiff for damages.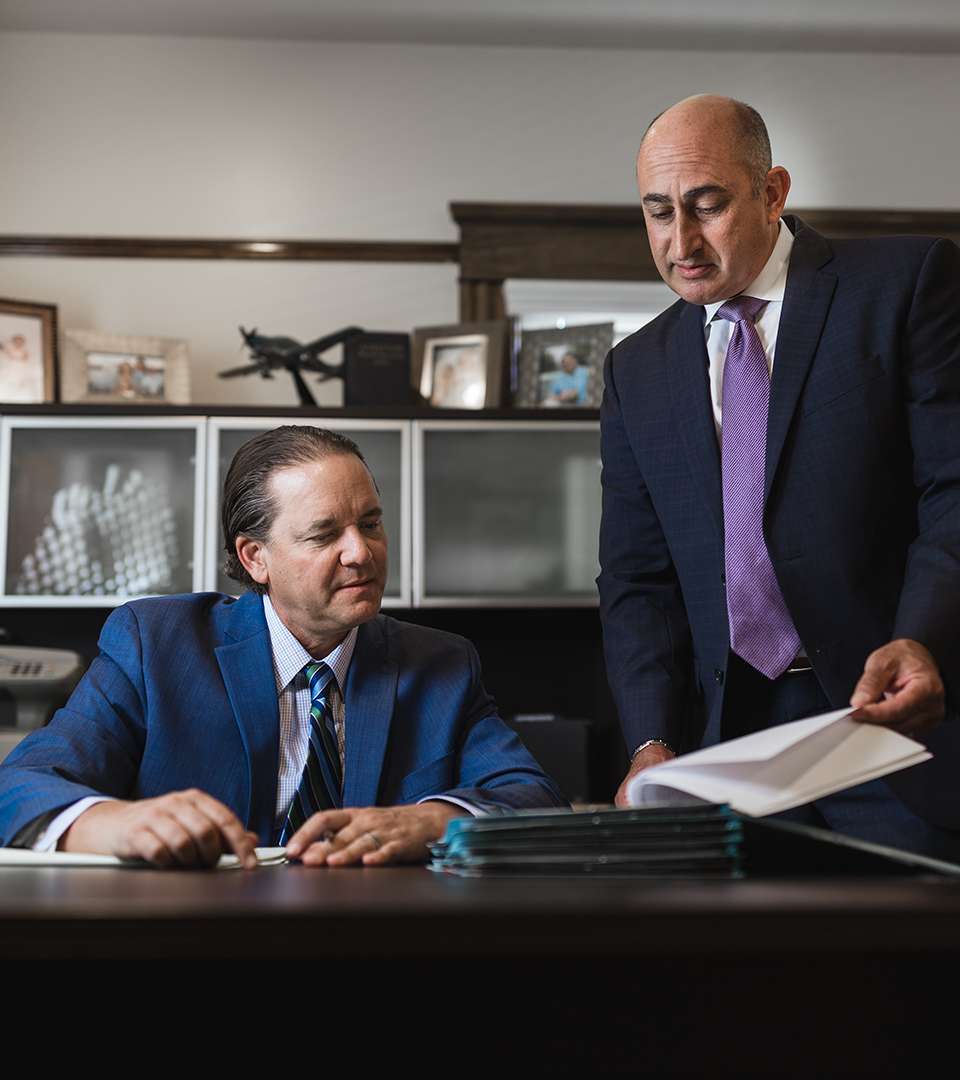 Common Causes of Car Accide
nts